TytoCare Medical Exam Kit
TytoCare Medical Exam Kit
TytoCare Medical Exam Kit enables medical exams, with remote physicians, from the comfort of home. Receive a diagnosis and prescription from a medical professional, in minutes.
It includes the FDA-cleared TytoCare device + adapters to examine the ears, throat, lungs, heart, abdomen, skin, and temperature.
Best of all, TytoCare is HSA/FSA eligible, just use your HSA/FSA card to purchase.
TytoCare is working with highly qualified licensed medical provider networks across the country. Each physician goes through a rigorous selection process to become part of the network.
For use in US only.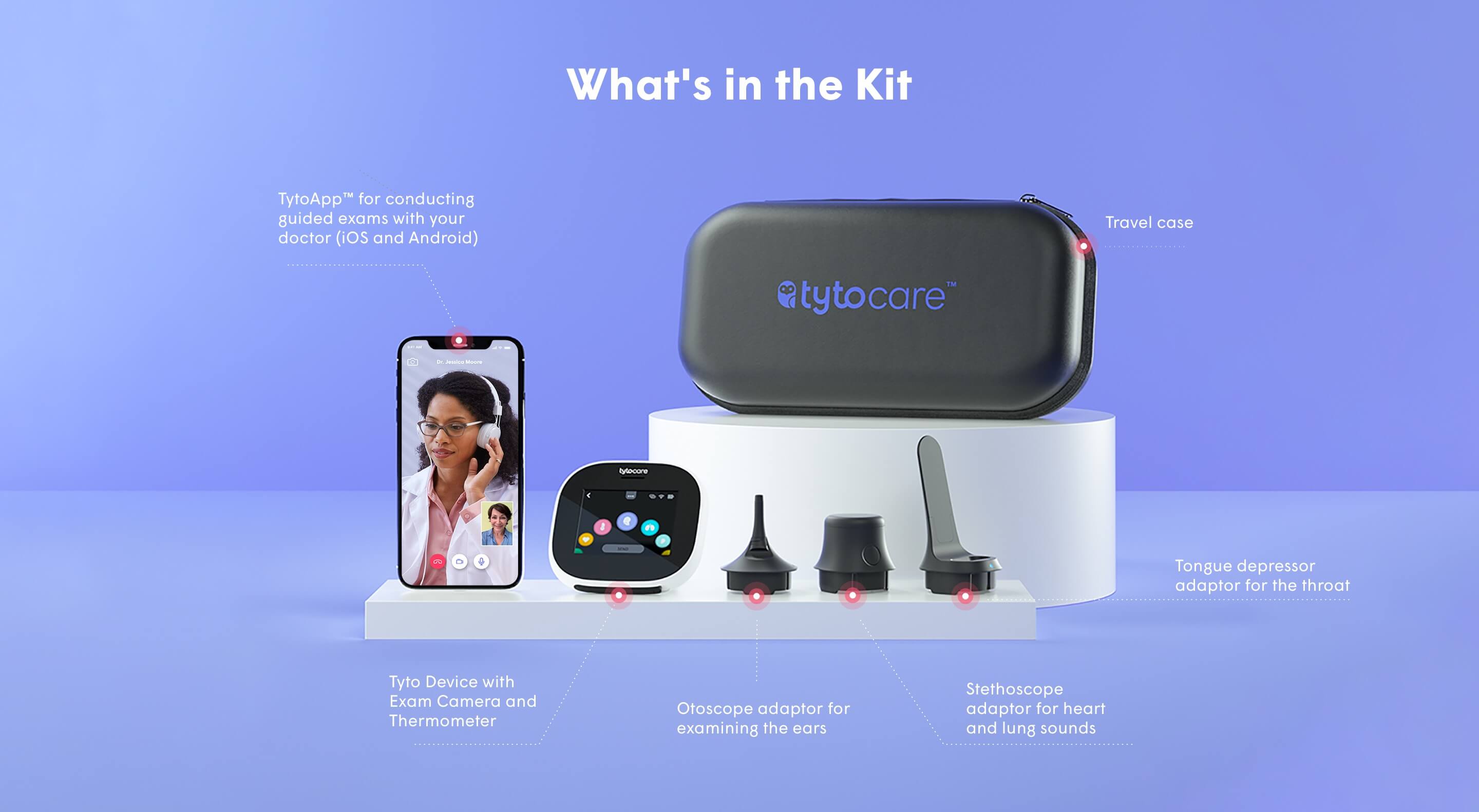 Frequently Asked Questions
What kind of smartphone or tablet do I need to use Tyto?

TytoCare currently works with the following iOS devices only: iPhone 6 or higher, iPad Mini 4 or higher, iPad Air or higher, or iPod Touch 6 or higher. Over time it will work on a broader range of devices, including Android devices.
How do I know what Apple iOS device I have?
1. Go to Settings, then General, then About.
2. Look for the Model Number (Screenshot 1 – Model No MK6L2LL/A).
3. Search the Model Number on Google.
4. The top results would usually be from Best-Buy or Amazon, and in them they will mention the model No.
Another approach is the following:
1. Go to Settings, then General, then About.
2. Click on the Model Number.
3. The number displayed there will change into a friendlier representation (Screenshot 2 – Model No. A1538).
4. Go to the relevant Apple's Support page to identify the model:
Is the TytoHome Exam Kit covered by insurance?

At the present time we are not aware of any insurance carriers that cover the Tyto Device, but please check with your carrier as their policies are subject to change. If you have a flexible spending account with your employer you can use it to purchase TytoHome.
What exams can I do with the TytoHome Exam Kit?

TytoHome has the following exam capabilities: Camera for taking photos and videos of the skin and the throat, thermometer for taking temperature, otoscope for looking inside the ears, stethoscope for heart, lung and abdomen sounds and capturing heart rate.
Is the TytoHome Kit equivalent to the tools used in office?

Yes, the TytoHome Exam Kit is designed to replicate the exams performed during an in-office exam. Tyto provides your physician with high quality digital sounds of the heart and lungs, high quality digital images and video of the ears, throat and skin, and body temperature.
What conditions are best for using the TytoCare App (video only)?

Using only the TytoCare App and not the TytoHome Device, doctors can diagnose conditions that do not require a physical examination, as well as mental health visits and consults.
Is TytoCare HSA/FSA approved?

TytoCare is approved for purchasing with HSA/FSA funds.
Can I use my HSA/FSA card to purchase?

Because TytoHome is HSA/FSA approved, all you need to do is check out on tytocare.com using your HSA/FSA debit card. You are also able to use another form of payment and apply for reimbursement through your plan at the discretion of your provider.
Is TytoCare FDA cleared?

TytoCare Stethoscope is FDA cleared and all other devices comply with FDA requirements.
Who can use TytoCare?

TytoCare is for use by adults, 18-65 years of age who are comfortable using mobile apps. If you wear eye glasses, contacts or hearing aids, please use them while using Tyto.
Is the TytoApp free?

Yes, the TytoApp is free to download and use.
Is there a monthly subscription fee to use TytoCare?

No, there is no monthly subscription fee to use TytoCare at this time.
When should I use TytoCare?

TytoCare provides an on demand physical exam that captures Heart, Lung, Ear, Throat and Temperature exams. Make sure to pair your TytoHome device as soon as you receive it so that it is ready to use when you need it. You may need to use your TytoCare when you or a family member is feeling sick or even for wellness checks.